Why Aveda Is Amazing For Textured Hair
The results are in! Aveda's new and innovative products are getting thumbs up all the way! Our textured hair clients are LOVING Aveda and leaving with moisturized, healthy hair and managing to maintain their look at home after they leave. Our stylists are enjoying the endless possibilities and solutions these products are providing.
Why Aveda? Why Now?
In recent years, trendS in texture has moved toward embracing natural styles and moving away from relying on chemical services. Clients wanted permanently relaxed or straightened hair, and stylists delivered. Now we are focusing on wearing curls, coils and kinks short, long, braided and twisted, so we need products that nourish and define. Our clients want healthy hair and we all agree that Nutriplenish™ is great for textured hair. It works great on fine or course textured hair. Having the light and deep options is helpful, too. For super course texture or very dry, damaged hair, we see immediate results. After the masque, we rinse and style. If it's really dry hair we'll use a little Nutriplenish™ serum before roller setting. Also, Nutriplenish™ helps in every season. Humidity in the summer or winter dryness is no problem! We always recommend Nutriplenish™ Daily Moisture Treatment to clients for detangling ends. It's not oily, so you don't feel you have to shampoo after using it.
We also love including Botanical Repair™ in our color services to strengthen hair. Sometimes curly hair just needs protein, not moisture—especially when flat ironing—and that's when we use Botanical Repair™. If there's a lot of previous damage, we may use a Botanical Repair™ masque, too.
We are also obsessed with Speed of Light™ since no one wants to sit under the dryer anymore and Speed of Light cuts down time at least 25 percent. We use it on almost everyone.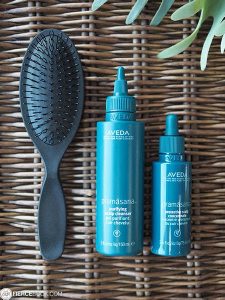 Solutions for Build-up
Many textured-hair clients go two to three weeks without shampooing their hair, and as a result, suffer from product buildup on their scalps. For those clients, we swear by Pramasana™ scalp cleanser. We see a huge difference when we use it. We usually use a clarifying shampoo, then Pramasana™, and then if the hair is dry or damaged we'll add another product for moisture. We start almost every service with either Pramasana™ or Rosemary Mint to remove buildup.

De-Frizzing Solutions

Flaunting your natural texture is on trend, frizz is most definitely not. To combat frizzing, we like Smooth Infusion. Most smoothing products don't have moisture—they just tackle frizz, but Smooth Infusion has it all. The Be Curly™ line is another go-to. Use it to style and keep curls in place without frizzing and start with Nutriplenish™ to hydrate the hair to truly define the curl/coil.
At-Home Care
Textured hair clients come to the salon more often (sometimes every other week) and rarely wash their hair at home, which means a different approach to at-home care is necessary—especially with dry, damaged hair. We are sending a lot of clients home with Invati Scalp Revitilizer to use nightly or three to four times per week, depending on the hair. When they use it consistently, we see results in 30-60 days. Control Force™ or Air Control™ are light enough to hold curl, but you can still comb through the hair. We encourage clients to purchase the products we know they'll use at home.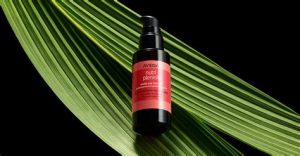 "We believe in what we're using and feel confident recommending reliable products that make big difference like Nutriplenish™ Oil, Brilliant™ Spray or Curl Gelée. Products that use silicone will coat the strands of hair, leaving people not actually knowing what their own hair really looks like and feels. Using Aveda is like going to the gym and eating healthy. We get to see what healthy hair is supposed to look like.